Geisai (part 2)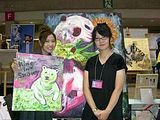 I know what you're thinking.
"New singles are all well and good, but what happened when
Halcali
were unleashed upon the unsuspecting art world to pick out two nice pictures they liked in 30 minutes?"
Well, this happened.
Haruka
found a panda and
Yukari
a collage of pictures taken in LA.
If I had to chose between the two, I'd go with
King In Snowy
. That collage looks like it was knocked up in about 20 minutes.