Zipper (2)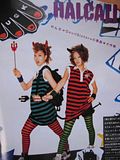 Looking through the
Fashion For Girls
section at your local bookshop while the shop owner eyes you with suspicion is actually quite character building, as I found out a few days ago when looking for the new issue of
Zipper
.
Halcali
continue their monthly photoshoot in the magazine this month with the brand
World Wide Love
under the title
Rockin' Horror Show
, which looks like a good excuse to include the word
fuck
in big letters across the top of the page if nothing else.
You might have noticed how
Haruka
is sticking to their usual
goof
routine, whereas
Yukari
has decided to switch to a more
I'm hot
one. A new move for them, isn't it?