B-Pass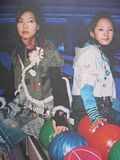 After the initial flurry of pre and post-
Twinkle Star
action from their HQ, things seemed to have come to something of a stop with
Halcali
. Looking back, what impact did
Twinkle Star
have? An absurdly catchy pop song with their old, famous production behind the wheels wasn't enough to propel the song into the top twenty even following it's immediate release. Am I being hopelessly naive here? Is there something I'm missing? What on earth would it have taken for people to have gone out and bought this record? It's hard to imagine them working any harder. What do they have to do? More Music Stations? More magazine interviews? More gigs?
Here's yet another
Twinkle Star
interview, this time from the April issue of
B-Pass
. I skipped over it at first, it's another bland, by the numbers interview with nothing much to recommend it. Yesterday though I caved in and bought the magazine since there's been nothing else H and Y related to write about recently. Right near the end, the subject of the third album came up. Nothing we haven't heard before, but isn't it always good to hear it again?
So, are you working on the new album?





Yukari

: Yes, songs are being written for us now. We've got some great songs lined up for singles. Of course we just want to keep improving and releasing stuff that's better than what we've done before. We're going to keep on writing our own lyrics too.