Round them up
From
Girlpop
(March #76)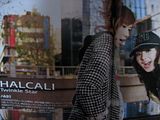 1. Before, I attributed
Twinkle Star's
release being pushed back solely down to
Sony
having a contractual obligation to fulfill by using it's artists to fill out the opening and closing theme slots for
Fuji TV's
Eureka 7
. Why else would a song as instantly accessible as this one be finished last June and then left to sit around in the studio for 8 months?
実はこの曲昨夏出来上がっていた楽曲に使われたサンプリング・ソースのクリアランスに時間がかかり、 今回の到着になったという。

Although in actual fact the song was finished last summer, there was a long delay caused by the time it took to clear the use of the sample from

The Magnificent Seven

.
That's it?! It just seems to pedestrian. Although my knowledge of these things is limited, it strikes me odd that they would pay for studio time and other related expenses before they even knew if the song was legal or not. Not to mention the fact that
Halcali
were playing it live last summer too. It's not as though that sample could be easily removed and replaced if it proved to be problematic as it forms the whole backbone of the song. That seems to be the official explanation though. Make of it what you will.
2. They apparently regret having only had been able to release one single in 2005, and vow to release a lot more singles, including the confirmed release of album #3, as well as performing a number of live shows in 2006. No dates yet obviously, but they both said they wanted to follow up on the
Tip Taps Tip
b-side
Halcali 'n' Bass
and continue the challenge of writing their own lyrics.
3.
Haruka
, 19 this summer, mentions that they probably won't be able to play a lot of their songs after they hit 20 as all the lyrics are aimed at, or about teenagers. At this rate it will be about then when I finally get to see them live so I hope this isn't true (I don't particularly agree with her about this either, but anyway).
CD Data
(March #3)
1.
Haruka
: "I had a lot of trouble about how I was supposed to sing it [
Twinkle Star
]. Even when I tried to follow his [
Ryo-Z
] example, I just couldn't do it. So eventually I asked him "what should I do? How am I supposed to sing this?" and he replied "Sing it as if you were fat. Imagine you've been stuffing yourself so much that you can't eat anything else". So, I tried it and put effort into it but in the end they just said, "No, that's wrong. Go back to singing it in your regular voice like you were before".
2. The b-side,
Nakamura's
check!!check!!it!!
(the magazine gives a different spelling to the one
Tower
offers) is a "cute love song", which
Yukari
thinks is a shame to have gone to waste as a b-side.
Finally, did you see the
commentary
Halcali
added to the
Twinkle Star
video? Like both of the above interviews, they make reference to the difficulty of following the
Shiritori
game in the PV. The sleeve will apparently fold out to reveal a complete demonstration on how the game progresses. I think I got it right though...