Toyota Bb Nite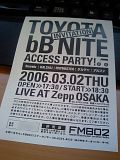 Yesterday (3/02)
Halcali
played an invitation only (they were given out as prizes through Osaka radio station
FM 182
) gig at
Osaka Zepp
. I wasn't able to go, it was in another city on a school night, plus I already had tickets to see
Dinosaur Jr.
, plus it was one of those annoying setups that made it difficult to get tickets and which just seemed designed to push people away from the event. Message to HQ: What people want is a gig where you can buy a ticket with money, go to the venue, wait until it opens, buy a t-shirt, watch the band and go home. Why make people jump through a series of stressful hoops?
I got this information from
mixi
, and although someone posted a set-list, I don't think this was the order it was played in.
Twinkle Star
Giri Giri Surf Rider
Tip Taps Tip
Marching March
Ai
Wakakusa Dance
(w/
Rhymester's
Utamaru)
Why do they keep playing that song off the covers album they were on? Anyway, it seems like a fairly well rounded set. We can only keep hoping that the national tour- the one where they come out and play more than 6 songs- is just round the corner.