Another Halcali cohort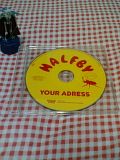 The new album by
Second Royal
Records'
Halfby
(who wrote possibly my favourite
Halcali
song
Queen of the Slopes

, and remixed

Giri Giri Surf Rider
for the remix album
),
Green Hours
is out now and it's great. Inventive sampling with the odd bout of rap weaved into insanely catchy (and certainly non-kitch, goodbye
Mansfield
) pop songs you'd have no qualms with dancing to. Yes, it's filed under club music but it's pop through and through. It's easily the most fun i've had with an album by a Japanese band since
Harvard's
Lesson
. Put together with love and attention. I also got a free 1-track 'novelty CD' (so it says here)
Your Adress
(sic). Pick it up if you dare.
If you like that, next on your list should be
Handsomeboy Technique's
Adleie Land
.
Second Royal
is turning (has turned?) into my new
Escalator
. There's certainly more warmth on the label than the computer-calcualted beats of
Usagi-Chang Records
anyway.