Twinkle Star sleeve/PV clip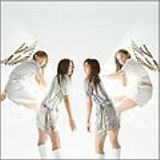 It's hard to make a good call based on this little snap from
Tower
, but what do you think?
UPDATE
You can now see a brief clip of the PV over at
Sony
.
First thoughts before i'm late for work-
The Magnificant Seven
opening works, the video looks exactly like that
Halcali
we all feared had been left behind, it had a jittering chorus that I immediantly wanted to hear again and was that the start of a
rap
? And a
dance
?! I want the whole song.
Now.
Thoughts? Ideas? Impressions?
(Thanks to
Sora Kara
for spotting this)