Cyborg Oretachi cover(s)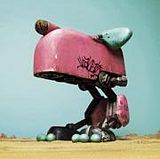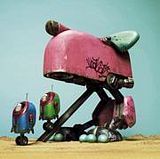 The one on the left is for the regular edition, the one on the right is for the limited DVD edition.
Although the size of these images from the
Sony
website means that it's difficult to get a good look at them, I have to say that my first impressions aren't that great. It's not that that pink mouse (?) robot thing looks just the wrong side of phallic, it's more that it's just kind of ugly.
I do like the idea that the limited edition CD gets a slightly different (and fairly funny) variation on the original though.
Also, from looking at that site, it seems like the very early pressings will come with a sticker which will give you a chance of winning a t-shirt. It doesn't specifically mention that you have to order the album through the site to get that sticker, but I'm assuming that's the case.
Anyway, thoughts on the cover (s)?
Thanks to
sora kara
!