Zipper (3)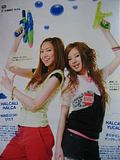 Here's the latest shot from
Halcali's
ongoing collaboration with
Zipper
magazine. This month's spread is called 15人の夏トップス (
The Summer Tops of 15 People
).
Halcali
clock in at number 15.
They're looking more like themselves this month, and I'm glad to see they've been given free reign over what to wear as opposed to being kitted out in the usual
Candy Stripper
-esque gear. It's still surprising to look back at their old promo shots in comparison though. They take one year off but come back looking like they've aged five.
Not that this is a bad thing of course, the thing I was worried about wasn't that they were going to stop wearing their baseball caps to the side but that the move to
Sony
was going to steamroller all of their unique sparkle into the ground in an effort to water them down to get them further up the charts. I'm not sure that's happened so far, and now I'm not sure it will.
Apart from the fact that so far,
Sony
have shown only minimal interest in Halcali anyway, musically I still don't think that we can use the two singles they've released so far (a
Halcali
sedated for an anime tie-in and
O.T.F's
massively delayed, possible
Halcali
swan song) to determine exactly how the switch has changed them, if at all. To me at least, their continuing involvement with
i-dep's
Nakamura
promises a lot at least.
Looking at these regular
Zipper
appearances though, has that unique spark gone? I don't think so. A lot of that spark originally came from the gift
Halcali
received that most teenage pop stars don't- the freedom to do what they want and dress how they please. That one early promo shot that tried to deck them out as the new
Heartsdales
aside, they still seem to have that freedom. They still look like they're posing themselves, dressing themselves and acting like themselves, and I can't think of many other people in
Halcali's
position that are able to stand up and say they can do that.
Judging by all those holidays to Europe and Asia they've been taking recently, they're being treated pretty well by their label too. Hopefully by the time the next single rolls around
Sony
will spend a little bit of that money on promoting it.